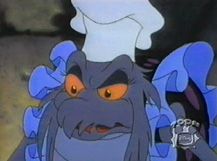 The Spinster (voiced by Linda Gary) is a villain in Adventures of the Gummi Bears.
Appearance
She is a giant blue-colored spider-like creature, but is also sentient as it wears clothes, like a chef hat and apron.
History
An enemy of the Great Gummies, the giant spider was trapped by a door, which leads to an unnamed world of giant creatures. Sir Thornberry makes the mistake of crashing into the door, causing the hungry spider to get loose.
External links